---
Empire Wrestling Federation
17805 Reed St
Fontana, CA 92336
Phone: 909-886-5201

For Booking Inquiries, please email us at wresref@aol.com 

To download our Media Kit, click here.

School of Hard Knocks
360 W. Court St.
San Bernardino, CA
(N/W Corner of Court St. & Arrowhead Ave)
---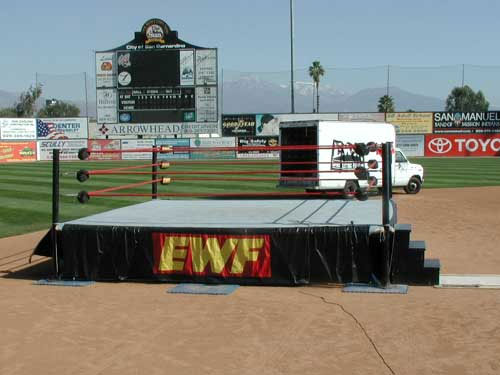 Whether you need just the ring, or the whole show, we've got you covered! Is your group or organization looking for a fun and unique way to raise money? Why not consider a professional wrestling show? This 19′ x 19′ ring is available for rental for fundraisers, wrestling shows, commercials, films, television and special events. Due to size and delivery constraints, rental is available in California, Arizona and Nevada ONLY.
The School of Hard Knocks permanent indoor ring is also available for rental for private pro training and as a studio for photo shoots, video/movie production and more. The ring is great for producing promo videos, commercials, short movies, etc.
The school also has a separate mat room for grappling and submission training/wrestling. It is available to trainers, students of grappling and anyone else who needs a place to hold sessions for an hour or two. Rates are reasonable, so be sure to inquire!!!!